We're taking some of the leg-work out of finding the best ABA practice management software out there for BCBAs and related therapy practices like Speech and Language Pathologists (SLPs) or Occupational Therapists (OTs).
When starting your own practice, it can be a time-consuming task to sift through all the practice management software options out there while taking into consideration so many factors such as functionality, compliance with privacy laws, data collection features and price point. Clinicians working as sole-practitioners, start-up clinics or small practices need to ensure the software they choose gives them the most bang for their buck. However, the needs of each practice are different.
In this article you'll find a summary of the best software for small therapy practices so you can narrow down what might be right for you and jump right into a demo for yourself. Always try out a product before buying it, as everyone's needs and preferences are unique. Here is what you'll find in this article:
A short summary of the key features for each product
A price point comparison
A summary of what each product does best and for which type of clinician, practice or purpose
Information about demos or free trials
The 10 Best ABA Practice Management Software For Small Practices
Here's a list of the best ABA practice management software and data collection solutions for small ABA providers or related therapy practices:
Overviews Of The 10 Best ABA Practice Management Software For Small Practices
Here's a brief description of each of the top software for small ABA and other behavioral health practices.
1. AlohaABA – Best for efficient scheduling
This tool stood out to me immediately. In addition to the software, I got a great sense of their commitment to and ability to serve customers with personalized attention when they took a call with me on an American holiday.
While all PM software has a scheduling tool, AlohaABA's stands out. If you're a Google calendar user, you will find this tool incredibly intuitive as there are many similarities in terms of layout. I love that as it's more efficient for me rather than learning a new format. Their use of dropdowns makes it really clean and organized.
Sometimes it's the little things that make all the difference for efficiency. AlohaABA's scheduling feature is a dream for those who really like to be organized and efficient. The overview of the calendar includes icons to show what is happening in each time slot at a quick glance (e.g., session, driving, break, admin etc.). You can also generate an Excel report to show how time has been allocated during a certain period of time. I also find the appointment creation to be really simple.
AlohaABA has an API integration with Google Maps. Aloha will calculate your mileage from the address at which an appointment was made.
Aloha costs $27.99/month per staff person in the system. If for some reason you have more staff than clients you can also have this be charged per client instead. After being set up in the system you have one month as a free trial including the support of a staff person.
2. Portia – Best for early intervention start-ups
Created over 10 years ago for their own clinic, Portia was designed for small practices. Portia has their own curriculum of 400+ goals embedded into their practice management software with objectives based on VB-MAPP and ABLLS-R.
This makes it a plug-and-play tool for practices that are just starting up. Of course, goals can and should be individualized for the learner, but having a template and curriculum to work from makes it really easy for a small practice or sole-practitioner to get going. Portia has plans to grow their program content for adolescent and adult learners beyond the current curriculum which is suited for younger or early learners.
Their billing platform allows you to input funding limits by type of service with different hourly rates to easily track a client's balance of services. As a sole practitioner this saves valuable non-billable time.
This software solution is great value for the price point due to the amount of content available in their curriculum. Having access to their curriculum is certainly worth it to save both time and money, and still have access to all their other features such as data collection and practice management tools.
Finally, there is no minimum number of clients required on the platform and only a monthly commitment so it's really flexible as you grow your practice or your needs change such as reducing or increasing your caseload temporarily (e.g., client away, breaks in service, camps etc.).
Portia-created invoices integrate with Quickbooks. They have plans to create more APIs to integrate better payroll capabilities.
Portia's software costs $19.99/month per client and contracts run on a month-to-month basis with no start-up fee or training costs.
3. ReThink – Best for newly-diagnosed clients
ReThink is best for practices serving young clients who are newly-diagnosed due to their reliable program library (500+ goals) that are reviewed by well-respected BCBA-Ds on their science advisory board, parent training module for parents of newly-diagnosed children and their unique Medical Necessity Assessment.
Creating new programs from the library is the most efficient way to get going quickly. You can then add in your own targets or populate the program with targets that are already in the system. These too can be easily edited.
Creating a customized program is pretty easy as well, but obviously takes a little more time than customizing the pre-made programs. Data is collected via a web browser, not the app, but still has an offline mode in which data is collected and synced later when back in wifi. Staff scheduling and billing is very detailed if you have at least a small staff team or multiple funding sources.
Their Medical Necessity Assessments can be completed in as little as 10-15 minutes and will objectively prescribe a dosage of treatment for the client by asking a series of questions. ReThink reports that they are widely accepted by insurance companies and have resulted in faster approvals.
Due to their a la carte pricing format, ReThink can cost anywhere from $20-$60 per month per individual. The basic model has the parent portal and data collection. There are various add-on features that increase the price including the parent training course, clinical scheduling, 40-hour RBT training and the billing platform. The clinician can decide to base it on the number of clients or number of staff, which will usually be the number of staff. Contacts are annual after the 30-day free trial.
4. Owl Practice – Best ABA practice management software for small practices that offer multi-disciplinary telehealth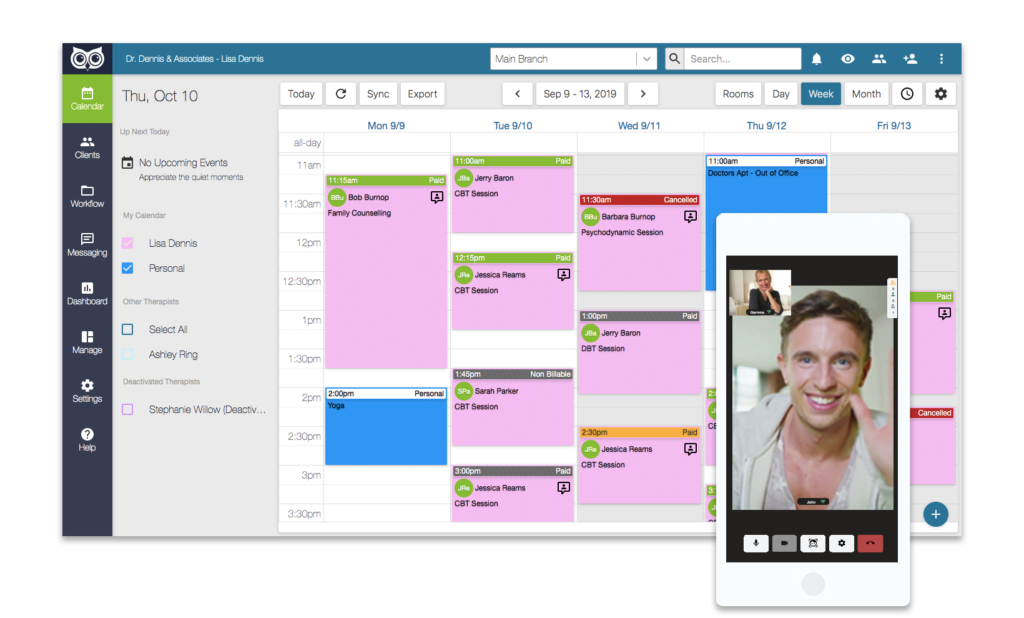 Owl Practice was designed for psychologists and speech and language pathologists. If your practice is multi-disciplinary, Owl Practice is a great option. If you are a Behavior Analyst taking data by paper or your own platform but seeking to use practice management software to communicate and share information between professionals, Owl is a great product for this use case.
It has a clean and uncomplicated interface with all the basic tools to minimize admin time for a small practice, including scheduling for multiple clinicians. Their simple platform is intuitive and the tutorial walks you through the start-up process step by step. Multidisciplinary mental or behavioral health practices would be well-served by Owl.
Clients who have a broad circle of care are well-served by OwlPractice. Communication between professionals is enhanced by the easy sharing and secure storage of notes. Even billing across professionals with varying rates or hours is easy. Their workflows ensure nothing falls through the cracks by prompting users to do incomplete tasks so with multiple practitioners working with one client, there are safeguards to ensure nothing gets missed.
Finally, their built-in telehealth platform that is offered in their full-feature tier eliminates your need for an additional video conferencing subscription and allows practitioners to easily hold group sessions or meetings amongst staff.
OwlPractice offers a free trial and then there is a monthly flat rate depending on which tier of features you would like to access. For a solo practitioner, this ranges from ~$50-$80 USD ($69-100 CAD) per month.
5. Total Therapy (Formerly Total ABA) – Best for quickly-growing ABA practices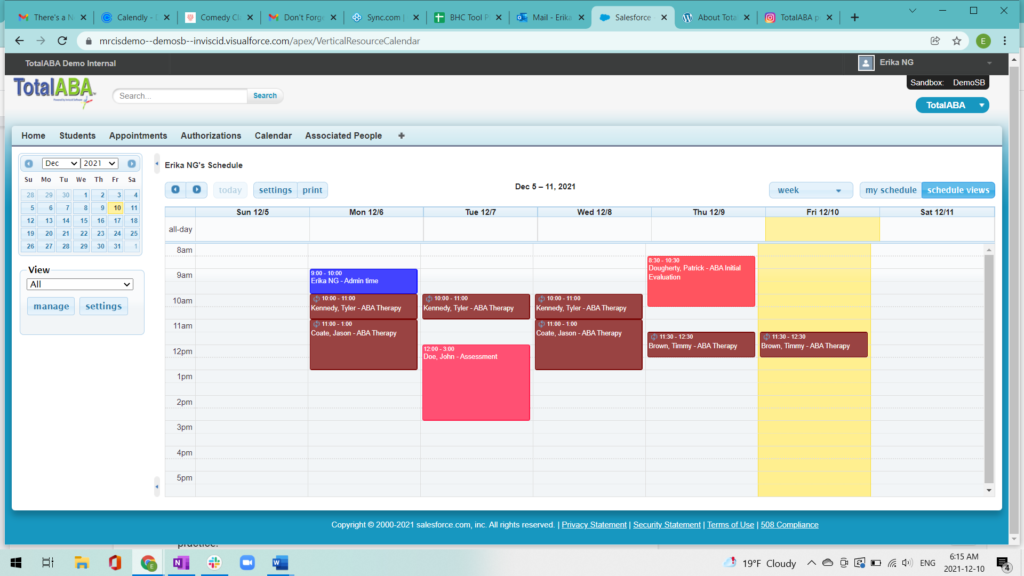 Built on the Salesforce platform, Total Therapy is a great tool for burgeoning practices around the world due to their servers being located globally. As your practice transitions from a moderately-sized start-up to a larger well-established one, Total Therapy will easily grow with you. As your needs change, the software can be customized to suit them.
Another benefit to using a product backed by Salesforce is that there are rarely outages of the system. You can rely on its functionality and feel at ease knowing your data is secure. While some large competitors are criticized for glitches and outages, this is where Total Therapy can really shine.
Total Therapy integrates with a lot of other programs and platforms and is customizable again, due to it being built on the Salesforce platform. It integrates with Tableaux, QuickBooks and E-fax to name a few. Additional APIs can be added quite easily, based on the needs of your practice. Every aspect of the program is customizable from fillable forms to ABA programs. If you have really individualized programs for your clients and want to input customized goals, Total Therapy is a great option.
For their practice management software the minimum base cost is $50/staff person with a minimum of 5 licenses. This goes down to $45 with 20 licenses. For both the practice management and data collection/clinical tools, the cost is $60/staff per month, again with the 5 license minimum (or $55/staff for 20+ licenses). Adding on the parent portal costs $15 per family for a minimum of 5 license and $12 per family for 20+ licenses. Further bulk discounts exist for larger practices (i.e., 50, 100, 250, 500+). To add on integration with Kareo, there is an additional cost of $200/month with discounts depending on the volume of transactions per month.
6. Accupoint 2.0– Best ABA practice management software for small practices delivering services via telehealth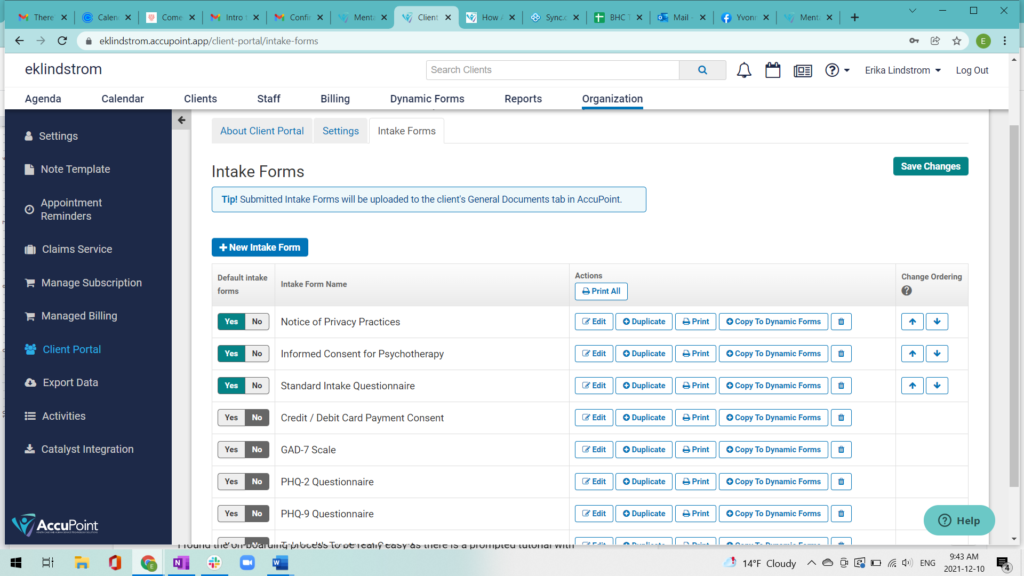 AccuPoint 2.0 is great for practices that have varying funding sources. While you can prepare invoices to be submitted to the government or an insurance company, you can also collect credit card payments for clients who pay out of pocket. Clients are able to create their own profile ahead of time and also allows any behavioral health professional to insert customized intake forms for them to fill out. If you offer a sliding scale based on income, you can set up your tiers to automatically bill this way.
This software allows professionals to serve their clients via telehealth right within the platform, eliminating the need for a separate videoconferencing subscription or secure cloud storage beyond this product.
I found the on-boarding process to be really easy as there is a prompted tutorial with video when you are first getting started. No having to go find how-to videos. However, getting started is also pretty clear regardless as the interface is clean and laid out in a way that makes it easy to navigate.
AccuPoint 2.0 integrates with Catalyst for data collection purposes, or Pinnacle for Organizational Behavior Management. These software products are all part of Therapy Brands.
Accupoint 2.0 is $30/month per client, with no contract. To add telehealth to your plan, it costs $12/month per clinician but you can have unlimited individual client sessions per month.
7. ABA Matrix– Most affordable ABA practice management software for small practices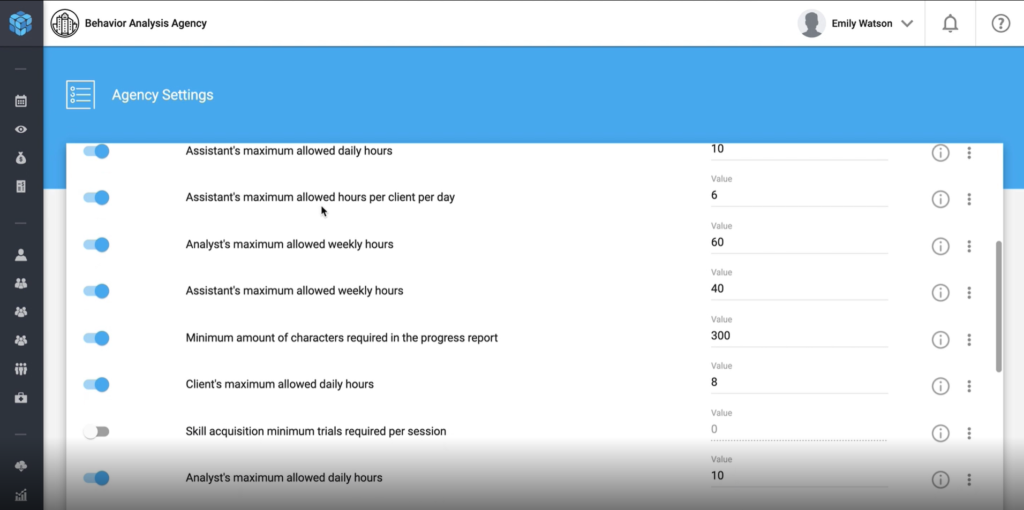 It's clear that this software is designed by folks who understand user experience. ABA Matrix has a really intuitive interface that is clear to use with a clean look. The use of customized drop-downs, tick boxes make it simple and efficient for a parent or RBT to use.
They pride themselves on their timely customer support and responsiveness to client feedback. They specialize in serving small and private practices so the service you get is great for the price point, which is also unique to this software.
ABA Matrix integrates with Tellus Netsmart EVV for practitioners that bill to Medicaid.
Their pricing model is per hour of work completed. For every hour of therapy (which has 4 units of 15 minutes) you are charged $0.36, or $0.09 per unit (i.e for every 15 minute increment). You are charged on the 10th of the month for the previous month's completed work as most practitioners would have been paid for the work from their clients by this time.
Ask their sales team for a 14-day free trial or free demo. This software has integrated data collection and practice management software.
8. MeasurePM– Best ABA practice management software for small practices that want to analyze business metrics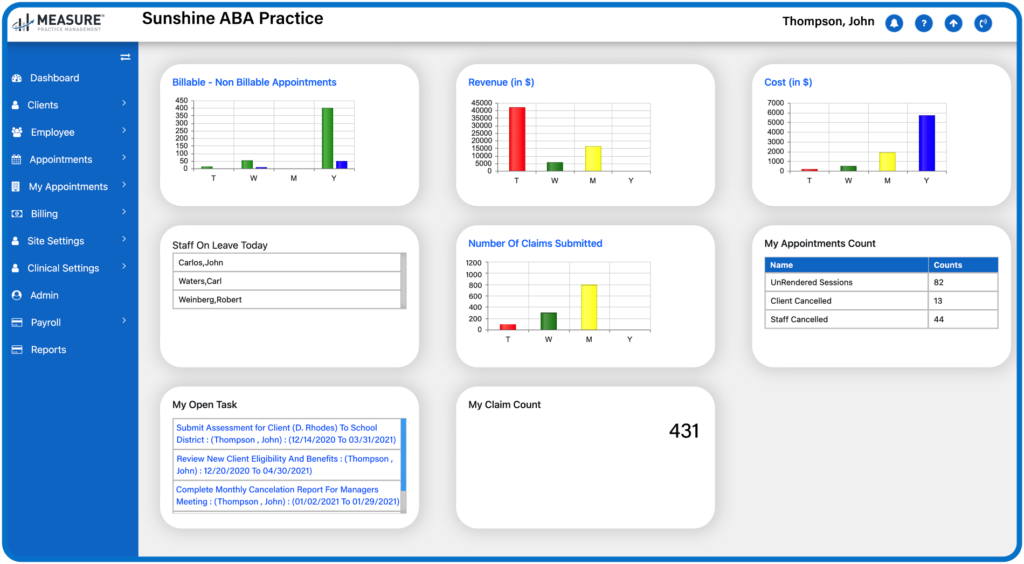 I was really impressed with how customizable yet simple the MeasurePM interface is. The dashboard is where you can analyze your business metrics and tiles are turned on or off based on which data you want to be viewing on a regular basis. I really like this format because it's clean and gives you initial snapshots of various data related to the functioning of your business.
While running a business might not be second nature to a behavior analyst, we do love data! When you're starting your own ABA or multidisciplinary practice you have to pay attention to the metrics of your business in order to have a thriving practice.
Having so many options for these metrics means you can choose which tiles are most salient every time you log in, allowing you to stay on top of business operations. You can even break down utilization time for staff members to see how you and your employees are doing based on billable, non-billable, canceled hours, rendered billable hours etc.
MeasurePM integrates with Office Ally as a clearinghouse. It also has a Google Maps API for tracking mileage.
For practice management software, the first tier is 1-12 clients for $400/month. For 13-100 clients, you pay $30 per client, and 101+ the cost is $25/client monthly for the entire package. To include the data collection module it costs $15/client for up to 50 clients, and $14/month for 51+ clients. Billing services on top of these options cost 5% of receivables for up to $500,000 and beyond this is a custom contract. A free 30 day trial is available and your current data can be imported from another system at no cost.
9. Theralytics – Best for start-up practices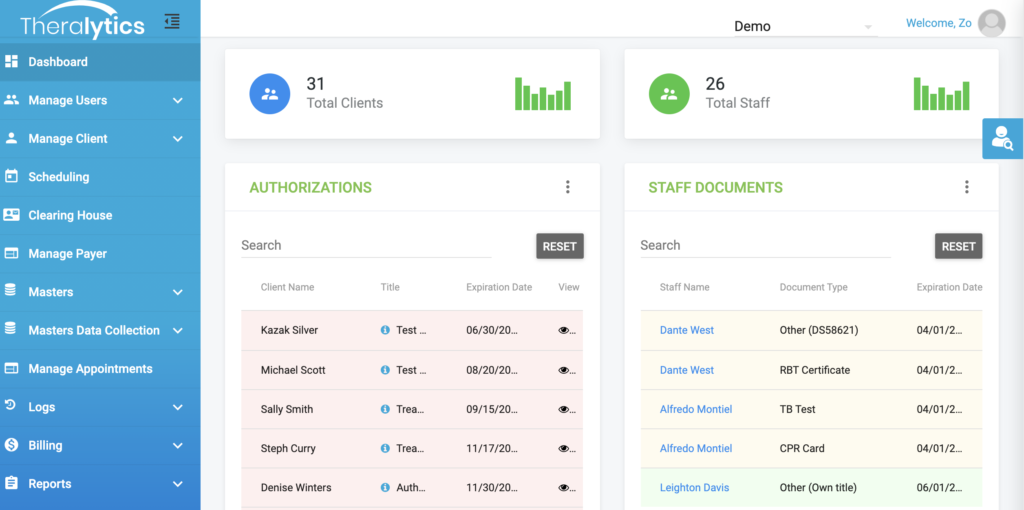 Created by a BCBA, Theralytics is a great software option for getting your ABA or other behavioral health practice going. It has integrated practice management software and data collection so everything is in one place. Best of all they offer a free 6 month trial or until you onboard your first client. If you're in the phase of still working another job while trying to build your business before taking on clients, this software can help you get started before you've got cash flow.
The clean and organized dashboard employs the use of graphs to immediately give you a snapshot of various aspects of your business. If you're using PM software to gain better analytics of your business operations, then this may be great software for you. This is especially true for small practices where you may be actively serving as a behavior analyst or other behavioral health professional, while also trying to keep your practice afloat and viable.
Theralytics integrates with ADP, Intuit and Gusto for payroll and HR purposes.
Each client costs $15/month for practice management only, or data collection only with a 10 client minimum (i.e., $150/month minimum). However, if you get the full package of data collection and practice management software, it costs $25 per client per month (still with a 10 client minimum). There is an additional fee of $35 paid directly to Office Ally should you use them as a Clearinghouse. Theralytics offers a free 6 month trial or until you onboard your first client. They do not offer a free trial.
10. BehaviorSoft – Best ABA practice management software for small practices that are supervising BACB fieldwork hours
If you have staff working on fieldwork hours with the BACB, BehaviorSoft has a built-in supervisory tracking system. I did all my tracking in Excel which can be a hassle to integrate with your work schedule. This feature unto itself could be a reason to use BehaviorSoft as it takes a lot of the work out of supervising, both of the supervisor and the supervisee.
I really love how this feature tracks the percentage of time the supervisee spends in various types of work in order to meet the requirements of independent or supervised work. This keeps the fieldwork process transparent between supervisors and supervisees within the company, ensuring ethical accrual of hours.
In addition to this feature, BehaviorSoft also has the standard practice management capabilities like scheduling, billing and client management. It includes data collection software as well.
After a 30 day trial, BehaviorSoft costs $40 per client per month with no contract.
Other Options
Here's a couple more that didn't make the top list.
Go Lotus – Another option for integrated data collection and practice management software. They offer a free 30 day trial!
Skills Global – While a little more cost-prohibitive for start-ups, Skills Global is another ABA software solution with data and PM software. However, you get access to tools such as a BIP builder, lessons and assessment tools.
WebABA – This practice management tool is a product from Therapy Brands. It integrates with Catalyst for data collection. A 12 client minimum is required.
Which software is the easiest to use?
Look no further than Facebook groups discussing the benefits and drawbacks of various ABA software. Everyone has their own preferences. I always recommend trying out these software for yourself where free trials are available. It's a lot of work to do this, but I hope the above information has provided a starting point to narrow down which couple you might want to test-drive.
Personally, I was really impressed with AlohaABA and its ease of use if you're just looking for PM software. However, I also really liked the layout of the ABA Matrix. It's quite affordable for practices with less than 10 clients or for when you're just getting started. It offers data collection as well. Portia is also really affordable, offers an integrated software solution, and is pretty intuitive to navigate. Measure PM has really incredible functionality in their app. I see this as really great for school or home-based BCBAs who are on the go and not always able to get onto their computer.
The Bottom Line
ABA practice management software can free up the time used for administration so that you can dedicate more energy to your patients and practice.
Join our newsletter to stay updated with all the latest articles and podcasts from The Behavioral Health Collective.
Disclosures: At the time of publishing, no remuneration was received from any company featured in this blog post in exchange for being listed.