Behavioral healthcare providers know how important it is to have data on client progress to monitor and inform treatment plans. BCBAs are compelled by their ethics code to collect and utilize data to ensure treatment efficacy. In addition to ABA professionals, mental health and behavioral health practitioners also use data collection to ensure treatment plans are effective. But what is the best ABA data collection software for your specific needs and context? Let's look at 10 great ABA data collection software tools for various use cases.
Each of these products has the basics for data collection, but they all have unique features that I focus on so you have an idea of which are most important to you in your ABA practice.
For example, do you want to have a secure messaging system? An easy-to-use app for parents? Telehealth? Curriculum library? These are all considerations for the needs of your practice. Some of the products on this list also have integrated practice management software, which is indicated in the summary.
In this article you'll find a summary of the best ABA data collection software for small therapy practices so you can narrow down what might be right for you.
The 10 Best ABA Data Collection Software For Small Practices
Here's a list of the best ABA data collection solutions for small ABA providers or related therapy practices:
ABA Data Collection Comparison Criteria
Here's a summary of my evaluation criteria:
User Interface (UI): Is it clean and attractive?
Usability: Is it easy to learn and master? Does the company offer good tech support, user support, tutorials, and training? Will this tool be easy for an RBT, parent or school staff to use for data collection?
Integrations: Is it easy to connect with other tools? Any pre-built integrations?
Value for Pricing: How appropriate is the price for the features, capabilities, and use case? Is pricing clear, transparent and flexible?
ABA Data Collection Software Key Features
These are some of the features I consider when comparing data collection software.
Specific Data Collection: Does the software do the type of data collection software I want it to? This is particularly important if you use something other than the standard dimensions of frequency, duration, intensity, interval, prompting levels, percent correct and ABC. For example, if you use standard celeration charting, PFA/SBT, PEAK or ESDM you may consider whether the platform can easily handle collecting data in this manner.
Practice Management System: Does this software contain or integrate with practice management software to include scheduling, billing, training, EMR management etc.?
Workflow: Does the software provide any support for improving your workflow such as flagging administrative tasks that need to be completed or provide any prompts towards incomplete tasks?
Privacy Law Compliance: Is it compliant with my local privacy laws? Some products only are compliant with HIPAA so customers outside of the US need to consider this.
Pre-made Programs and Goals: Many platforms have a library of goals and programs to draw on that can be individualized to your learner. Is this important to me or so I want to add in my own curriculum or goals?
School Use: Is this product suitable for school staff to be using either for an outside clinician or school-based practitioner? Something to consider if you are working in schools.
Video Modeling: We know how powerful and effective video modeling can be for staff and parents. Does this tool allow for video models to be embedded into the parent/school staff portal?
Offline Mode: If you're working in a home or school without internet connection, does this product work offline reliably?
Mobile App or Browser-Based: Depending on what tech you have available for staff, a mobile app versus a browser may be more or less useful.
Messaging: Is there an internal messaging system between the clinician and staff or a parent working with the child? Is there a way for team members to communicate in real-time?
Overviews Of The 10 Best Data Collection Software For Small Practices
Here's a brief description of each of the top data collection software for small ABA and other behavioral health practices to showcase each tool's best use case, some noteworthy features, and screenshots to give a sense of the user interface.
1. Hi Rasmus – Best for telehealth intervention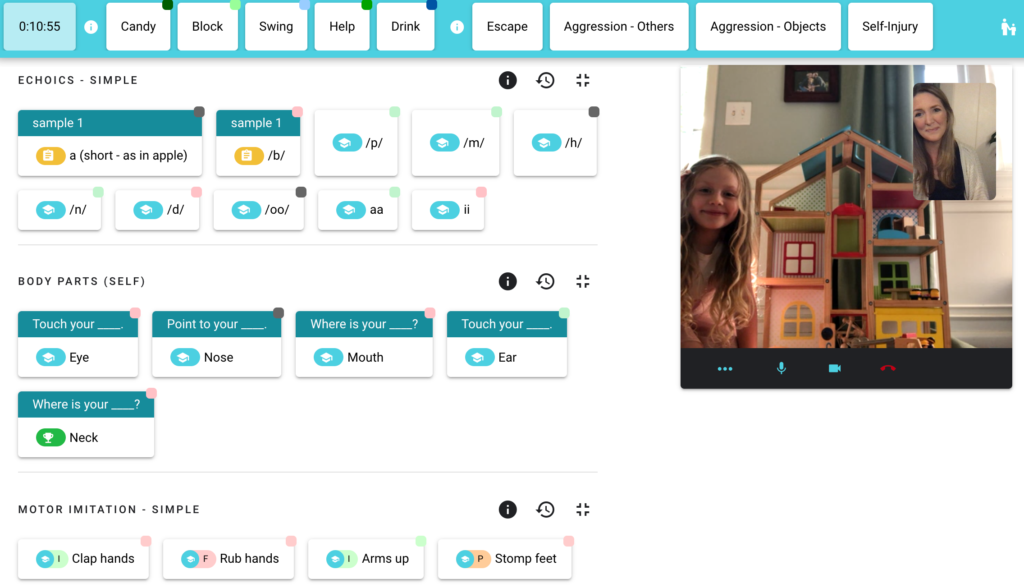 Hi Rasmus is an ABA data collection tool that was founded by a parent of a child with autism, seeking to make distance less of a challenge for families and clinicians with their telehealth platform. They have clients in 18 countries on 4 continents.
Hi Rasmus really lends itself to a parent-coaching model via asynchronous or synchronous telehealth services. It has FTF's Balance Program embedded into it with instructions and video models for Behavior Analysts to use while coaching parents in the program. It can also be used for  Practical Functional Assessment and Skills Based Treatment and it is now fully integrated into their software.
I've personally used Hi Rasmus to deliver the Balance Program to coach parents. I found it so helpful to have video models ready for the parent to observe whenever they wanted but also the ability to take data while watching a telehealth session.
Getting a parent set up with a telehealth account is simple and inviting them to a session is automated through email. The therapist has control over the screen and what they are showing the parent during a live telehealth call.
Furthermore, parents or RBTs can upload videos of a session to be watched by the supervising BCBAs at another time for asynchronous data collection. It is HIPAA compliant and also meets privacy requirements for the US, Canada, Europe, and elsewhere. Their platform allows you to easily watch a session video while taking data in their system. You can now assess, supervise, monitor and report on all your staff training, including initial competency assessments and weekly supervision.
Hi Rasmus is constantly innovating and improving their product for the same great price. They now integrate with AlohaABA and Lumary for a combined practice management and data collection solution. They have also added a 40-hour RBT training that is based on Behavioral Skills Training and is interactive with thought-leader guest speakers and video upload capabilities for BCBA supervision purposes.
Each client costs $19/month for the basic package (including Balance but limitations on the number of video uploads and client files) or $29/month for their telehealth license and unlimited client files and video uploads. Quantity discounts start from 20 clients upward. There is a free trial for both.
2. ZigZag – Best for large circle of care teams
ZigZag is an ABA data collection system designed by parents of a child with autism and sought to find a solution to coordinate their care team, streamline data collection and make communication more efficient.
Having a well-designed web platform for overall management and mobile app for data collection via an iPad allows team members to easily take data across environments. For goals that may be run across staff and environments, there are clear indications the number of times a program has been run so none fall through the cracks.
ZigZag allows an unlimited number of staff attached to each learner. This means you can have not just the school team or therapists in the system but also summer camp staff, extra-curricular staff, and respite workers all collaborating on goals and programming. The layout for long and short term goals is very clear. This allows multiple parties to see all the goals a learner is working on. For example, the school team, home BCBA and home OT can see progress towards goals in all environments.
ZigZag was designed with wraparound support in mind. The secure chat allows team members to communicate within the platform. It functions similar to Slack and can include everyone on the care team to promote clear, efficient and transparent communication.
ZigZag also has a scheduling feature and an upcoming invoice-creation feature.
ZigZag has various pricing options depending on your use case. Behavioral Health practices, clinics/centers and home teams pay $29.99 per client per month. Multidisciplinary clinics pay $39.99/month per client. There are volume discounts available for larger numbers of clients. A free trial is available.
3. Motivity – Best for interval data collection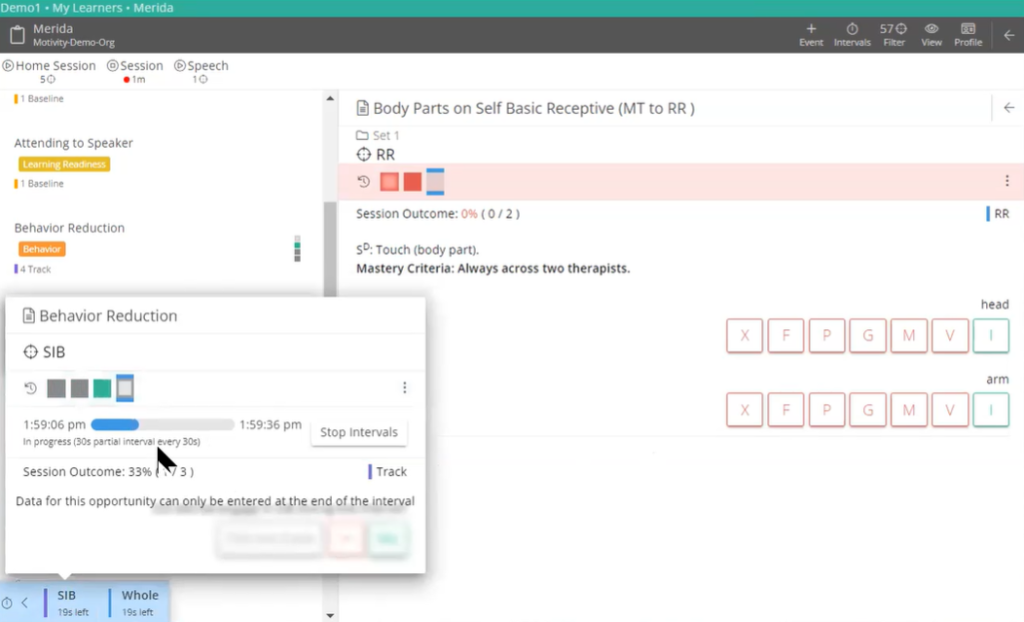 Motivity is an ABA data collection solution that has had only 4 minutes of downtime in the last 4 years.
Motivity has a layout and level of functioning ready to take on multiple interval timers at the same time. This can be helpful not only for one learner but for multiple learners at a time, perhaps in a school or a center. Multi-tasking data collection is intuitive with Motivity. For example, you can be running an interval for a DRO in the background while running academic programs during a session. Running Skills Based Treatment and up to CAB3 or beyond? Take data on SBT trials while also tracking the academic or adaptive skills being taught when the EO is in place.
Their incredible functionality allows robust data collection to occur simultaneously. You can use curriculums like PEAK, Essential for Living, or Practical Functional Assessment and Skills Based Treatment. What's great about Motivity is that you can be tracking progress for skill acquisition programs simultaneously with behavior reduction goals by using the multitasking feature in Motivity.
Motivity integrates with AlohaABA for a practice management solution.
This software costs $20/month per client. You can have unlimited staff and there is no contract. If you caseload changes for whatever reason, you don't have to pay for the clients that are not taking data for that month. There is a 30 day free trial after doing a demonstration with their sales team.
4. ABA Matrix – Most affordable all-in-one solution
ABA Matrix is an ABA data collection app that has features being added on a regular basis due to feedback they solicit from their customers. ABA Matrix is committed to turning around updates within about a month.
ABA Matrix is great for sole practitioners because you're billed for each unit of time worked so if you don't have much staff, and it's just you, this is a great solution. It provides an all-in-one solution having both practice management software and a data collection component.
ABA Matrix is great for on-the-go data collection. Their app is designed to work on a mobile phone screen so this makes it easy for any behavioral health clinician to collect data and create session notes in a clinic, home, school or community setting.
The ABA Matrix platform also makes it easy to do RBT supervision or caregiver competency checks in the field or remotely by using their embedded supervision system. BACB task list competencies or other skills can be rated on a Likert-scale with comments included.
Another really great feature of ABA Matrix, like many of the other privately-owned companies on this list, is that they are responsive to their customers. They are able to get customizations completed in about a month.
ABA Matrix costs $0.36per hour worked or $0.09 per unit (15 minute increments). Therefore, if you work with a client for 10 hours in a month, you are billed $3.60 for the month.
5. Portia – Best for early intervention
Portia is a Canadian-designed applied behavioral analysis data collection software that has been around for over 10 years and is specifically designed for ABA clinics.
Portia has their own curriculum of 400+ goals embedded into their data collection software with objectives based on VB-MAPP and ABLLS-R, making it a great tool for early intervention start-ups.
This makes it a plug-and-play tool for practices that are just starting up. Of course, goals can and should be individualized for the learner, but having a template and curriculum to work from makes it really easy for a small practice or sole-practitioner to get going.
If you use a curriculum like PEAK, they do have customers using it on their app-based data collection platform. The app can also collect data in offline mode and sync when the device is later connected to wifi.
This all-in-one ABA software solution is a great value for the price point due to the amount of content available in their curriculum. Having access to their curriculum is certainly worth it to save both time and money, and still have access to all their other features such as data collection and practice management tools.
Portia's software costs $20/month per client and contracts run on a month-to-month basis with no start-up fee or training costs.
6. ABA Desk – Best for Data Collection in Schools
ABA Desk is an ABA data collection software that can be used on any device–including a Kindle! It can work offline and re-sync your data when the device is back in stable wifi.
ABA Desk is well-known for its ease-of-use and robust data collection features. Teachers, school-based BCBAs or sole practitioners not needing practice management software can use this as a stand-alone tool. ABA Desk is a great data collection solution for schools and has a reputation for being a reliable piece of software.
ABA desk has all the standard elements of behavior analytic data collection and can run on any device, making it great for parents, RBTs or educational assistants taking data from a mobile device.
Graphing on ABA Desk is easy, also allowing you to export your data to Excel if you desire. It gives you the ability to narrate the details of a graph and justify your rationale for programming choices if needed. Their teacher discount is handsome, and makes data collection in the classroom not only easy for IEP goals but financially accessible for public schools.
This software is quite affordable compared to competitors and is well-suited to sole-practitioners. Various pricing options begin at $50/month for up to 10 clients and one practitioner. Teachers qualify for plan discounts.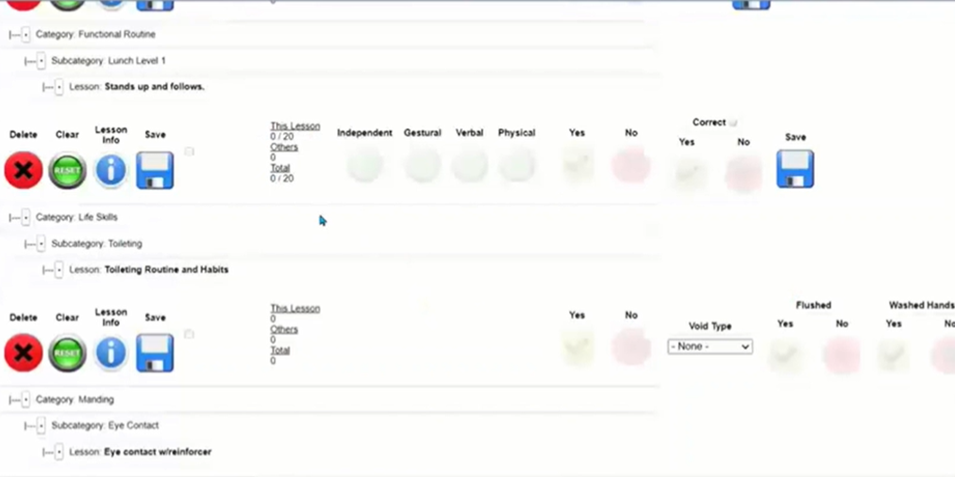 TotalTherapy is an ABA data collection software that has been on the market since 2013, and the only of its kind built on the Salesforce platform.
TotalTherapy has lots of different options for how and what data you collect. Trained staff familiar with ABA can take data in a variety of ways both on a tablet or desktop. Furthermore, there are many options for creating detailed forms and reports, depending on the needs of your clinic. Even if you have a really robust program running for students, you can collapse programs to make the screen cleaner if the clinician is not working on specific goals.
TotalTherapy provides both practice management to support administrative tasks (e.g., scheduling, insurance and medical billing, document management) and data collection to track client progress.
Being built on the Salesforce platform means it's really reliable and easily customized. They have many existing APIs such as Quickbooks, Tableaux and e-fax, but it's easy for them to add on additional integrations if requested.
There is a minimum base cost of $200/month for their practice management software. To include the data collection software, one must upgrade to the platinum package. TotalTherapy is now owned by ReThink but the products remain the same with some access to ReThink's features.
8. Measure PM – Best for customized data collection
Based in LA and launched in 2020, MeasurePM is an ABA data collection solution with a focus on business metrics and revenue cycle management. It's founders have backgrounds in ABA, finance and IT, giving the software great capabilities on both the business and clinical sides.
Many of MeasurePM's customers are behavioral health practices with OT, SLPs, Sight, and other practitioners. Whether you're taking ABC data as a BCBA or taking articulation data as an SLP, MeasurePM has got you covered with lots of different ways to collect data across disciplines. They are able to customize data collection and even report to the needs of your practice, which is an asset for multi-disciplinary practices.
MeasurePM backs up your data every 15 minutes so it's super reliable. They report never having had a breach or outage. You can rest assured knowing that your data is backed up in real-time.
The first pricing tier is for 1-12 clients, costing $300/month. They offer a free 30-day trial. After 13 clients it costs $45 per client per month. No long-term contract is required. You are only committed month-to-month.
9. ReThink – Best program library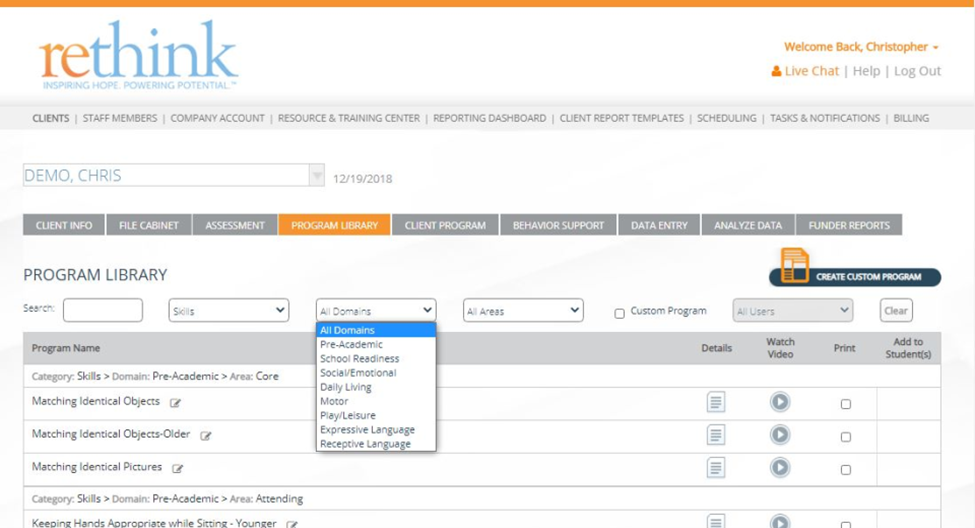 ReThink is an award-winning aba data collection software used by over 30,000 clinicians.
ReThink is best for getting started quickly due to their reliable program library (500+ goals) that are reviewed by well-respected BCBA-Ds on their science advisory board.
Creating new programs from the library is the most efficient way to get going quickly. You can then add in your own targets or populate the program with targets that are already in the system. These too can be easily edited.
Creating a customized program is pretty easy as well, but obviously takes a little more time than customizing the pre-made programs. Data is collected via a web browser, not the app, but still has an offline mode in which data is collected and synced later when back in wifi.
Due to their a la carte pricing format, ReThink can cost anywhere from $20-60 per month per user. The basic model has the parent portal and data collection. There are various add-on features that increase the price including the parent training course, clinical scheduling, 40-hour RBT training and the billing platform. The clinician can decide to base it on the number of clients or number of staff, which will usually be the number of staff. Contacts are annual after the 30-day free trial.
10. GoLOTUS – Best for multidisciplinary practices
Go Lotus is another ABA data collection solution created by a parent of a child with autism as a solution to manage a large care team. It is used by a variety of behavioral healthcare providers aside from just ABA clinicians.
Go Lotus has plenty of options for ABA therapists but has data tracking options that are specifically designed for Occupational and Physical Therapists as well as Speech and Language Pathologists. Depending on the needs of your practice, you can turn on and off any of the 13 types of data collection to manage what you see on a regular basis.
If a clinic has various practitioners working with the same client, they are able to make use of the simple data collection that GoLotus offers, while also having goals shared amongst the team. Their whole system in terms of data collection and client management isn't overly complicated, yet contains the important elements for data collection across behavioral health disciplines.
GoLotus costs $20/month per therapist. This includes data collection, a scheduling feature, EMR & EHR data storage, documentation storage and session (SOAP) note generation all for an unlimited number of clients. They offer a free 30 day trial.
Other Options
Here's a few other data collection or all-in-one software solutions:
Which software is the easiest for a parent to use?
I always recommend trying out the software for yourself. Perhaps even have a willing parent try out the software with you during your trial and get their feedback.
I use a parent-coaching model in my own practice so personally, I love Hi Rasmus for families. It's not too technical and therefore not overwhelming to navigate. Hi Rasmus lets the parent focus on participating in a session while the data collection is left to the clinician via either synchronous or asynchronous telehealth. It felt effortless to get started with the software and has been easy for my clients to upload session videos.
While I've done the demos and trials where possible for each of these products, I haven't had parents trial all of them. Do the trials for yourself and perhaps test run a couple with willing parents or RBTs to see what works best for them.
Which of these software provide all-in-one solutions?
In no particular order, the following software provides an all-in-one solution (data collection + practice management software). Please note that not all include billing, scheduling, programming, EMR management.
Which software primarily provides data collection?
In no particular order, the following software are primarily focused on data collection. Please note, some may include one practice-management feature such as storage for a client's electronic health record or a telehealth feature.
My practice is multi-disciplinary. Can this software help disciplines beyond applied behavior analysis (ABA)?
Yes! Although many of these software contain data collection methods specific to ABA, there are a few that are easily customized to suit the needs of other practitioners. In my opinion from the demos, these include.
Why is data collection so important for applied behavior analysis?
Board-Certified Behavior Analysts are bound by their ethics code to collect and utilize data in clinical decision-making. This includes throughout the assessment, treatment/intervention, and follow-up process.
Behavior Analysts collect data to inform a variety of clinical decisions including assessment of the behavior in question, which intervention methods to use when to alter the intervention process, determine when goals have been reached and whether an intervention process has been effective. This is true for all clients and applications of behavior analysis, whether you are working with children with autism or practicing Organizational Behavior Management while working with a team of staff in a company.
What Do You Think?
ABA software that automates your data collection can greatly impact your small behavioral healthcare practice. Depending on the specific ABA software product, it can support telehealth, improve communication amongst team members, store EHR, track behavior data, generate progress reports and more.
The bottom line is that data collection software can help you do so much that you might now do manually, in a lot less time. This has a direct impact on you as a small business owner.
If you've used one of these products, comment on why you like it and how it has helped your practice. If there is a product not on this list that you love, mention it and comment on why you love it.
Check out info on practice management software for small behavioral health practices. Join our newsletter to stay updated with all the latest articles and podcasts from The Behavioral Health Collective.
Disclosures: At the time of publishing, no remuneration was received from any company listed in this blog post in exchange for being featured here.
---
Are you a behavioral health professional looking to market your services? Check out BHC's FindXpert network to promote your services!