Hiring a BCBA (Board Certified Behavior Analyst) or International Behavior Analyst (IBA) can bring a unique behavioral perspective to your behavioral health challenges. I'll refer to these certified individuals as BCBAs and IBAs in this article to include anyone certified as a behavior analyst globally.
Although you may associate behavior analysts with autism, the science of behavior has much wider applications.
Lots of BCBAs/IBAs have gained expertise in other areas outside of the field of autism. They work in a variety of fields from parent coaching to nutrition, health, and fitness, tutoring/education, Organizational Behavior Management (OBM), financial literacy, counseling, and more. I'll link to some examples of these at the end of the article.
BCBAs/IBAs may be hired on their own to help solve a behavioral or skill-deficit challenge or hired to work with a team of allied behavioral and physical health professionals (e.g., Speech & Language Pathologist, Occupational Therapist, Physician, Special Education Teacher, Counselor, Psychologist, etc.).
Check out the BHC podcast to learn more about the different areas BCBAs/IBAs are applying the science of human behavior and how they work with other behavioral health practitioners.
The purpose of this article is to take you through what to look out for when hiring a BCBA/IBA to support positive behavior change and skill development.
While this guide is designed to educate consumers on hiring a BCBA/IBA, some of these considerations can apply when hiring other professionals too.
This article will cover:
Let's dive in.
Get Familiar with The Ins and Outs of Behavior Analyst Credentials
Everyone has a different approach to finding a professional to work with. But there are some important things to know before hiring a BCBA/IBA, such as the differences between various behavior analytic credentials either through the Behavior Analyst Certification Board (BACB) or the International Behavior Analysis Organization (IBAO).
You deserve to have access to evidence-based and effective services, provided by a qualified professional who has been trained in applied behavior analysis, if that is what you are seeking.
Here I'll highlight the differences between various behavior analyst credentials and give a short description of each role. This is the first step to hiring a BCBA/IBA to provide behavior analytic services (i.e., aba services).
Roles and Credentials
BCBA/IBA
BCBA means 'Board-Certified Behavior Analyst' as credentialed by the Behavior Analyst Certification Board (BACB). The international credentialling body is the International Behavior Analysis Organization (IBAO) and their certification is called 'International Behavior Analyst' (IBA). Professionals may advertise as a Behavior Consultant, Behavior Specialist, or Behavior Therapist but have BCBA/IBA credentials. These other terms may be used to better describe their work to consumers.
However, not all Behavior Consultants are certified as BCBAs/IBAs. This doesn't mean this person is not qualified in other ways, but it means they have not completed the coursework, exam, and supervised fieldwork required to be certified to practice applied behavior analysis. This person may posses other skills, education and experience, but this something to be aware of.
Each province, state, and country have different laws around this. In most Canadian provinces, BCBAs/IBAs are not yet regulated under a professional college or professional licensure. In many American states, there is licensure unique to the profession.
Regardless of provincial or state licensure (or lack thereof), all behavior analysts credentialed with the title 'BCBA' have met specific criteria in line with BACB standards including master's degree course work, at least 1,500 hours of supervised fieldwork under the mentorship of an experienced BCBA, and have passed a competency exam. The same is true for IBA certification as certificants with BCBA credentials can purchase their IBA certification.
Individuals who are seeking IBA credentials without BCBA certification must follow one of the following paths: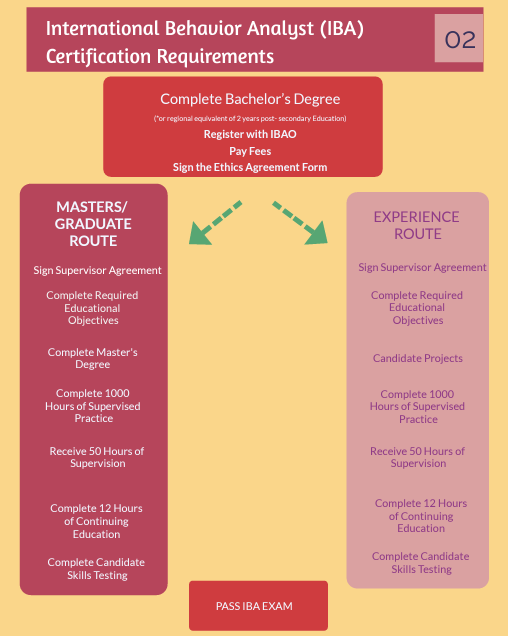 If someone advertises as a 'behavior consultant' and does not have the BCBA/IBA certification, you may want to ask more about other credentials and experience they have.
If you want to check to see if someone has BCBA/IBA certification, you can search their name through the BACB or IBA registries respectively. Someone advertising as a behavior consultant may have other experience and training in behavior or developmental services, so simply ask. Just know that their framework and approach will be different from a BCBA/IBA.
A BCBA/IBA is trained to assess behavior, create skill acquisition and behavior reduction programs/interventions, train staff, monitor progress, and make changes to these programs as needed. This model applies across fields.
A behavior analyst with a BCBA/IBA certification is required by their ethics code to collaborate with other professionals to support wraparound programming of the client. A BCBA/BA collects data to monitor the progress of the plan and will pivot to change the plan if the data says it is not effective in reaching the goals set out.
BCaBA
If someone has a Board-Certified Assistant Behaviour Analyst (BCaBA) credential, they have also completed specific requirements through the BACB, but this position is designed to function under the supervision of a BCBA.
The requirements for a BCaBA are less intensive than those required for BCBA credentials. You can find out if someone is registered with a BCaBA credential on the BACB website.
BCaBAs cannot provide behavior-analytic services without the supervision of a BCBA. They are, however, able to provide supervision to a Registered Behavior Technician (RBT) (see below).
RBT/IBT
There are many terms used to describe a person working directly with clients on a regular basis to implement programming. You might call this position a Behavior Interventionist ('BI'), Behavior Tech, Educational Interventionist etc. This is dependent on where you live.
In many jurisdictions, the function of this front-line support role is not licensed. However, if you are using insurance for services for your child, you may be required for these front-line staff to be certified as a Registered Behavior Technician (RBT), credentialed through the BACB.
This means they have done 40 hours of training, passed a competency exam, and performed in-person competencies as observed by a BCBA.
RBTs work under the supervision of a BCBA and/or BCaBA. There are lots of online RBT training courses, including some that are free. This makes it accessible for support workers that might already be working with your child to gain their RBT credential and be better prepared to implement behavior analytic interventions.
Again, you can use the search on the BACB website to check someone's credentials. The supervising BCBA or BCaBA is responsible for directing the work of the RBT. This role may be less common in fields outside of autism and developmental services.
Around the world the IBAO certifies International Behavior Therapist (IBTs). Similarly to BACB requirements, they have completed a 40-hour course, 300 supervised hours of fieldwork and passed an exam.
Understanding Ethics for BCBAs and IBAs
If you are considering hiring a BCBA/IBA in any capacity, there are some things to know about ethics for BCBAs and IBAs that might be a little different from working with other professionals.
The purpose of the Ethics Code for Behavior Analysts* is to protect YOU, the consumer. These are some highlights but are not an exhaustive list.
Behavior analysts take a capacity-building approach. The goal is to build the skills of caregivers that are part of the client's life, or the client directly, to build their own capacity to engage in values-oriented behaviors.
Behavior analysts consider the 'client' to be anyone who is the recipient of services, so this might also include family members, caregivers, and other stakeholders that are collaterally impacted by behavior analytic services.
They can't ask current clients for testimonials, so you won't be put in an awkward situation.
Behavior analysts don't mix professional with personal. Therefore, they can't add clients and their families to social media as friends or receive gifts above $10 in value. Seeing positive changes in the client is reward enough!
They collaborate with families and other professionals and seek to bring their strengths to multidisciplinary teams while respecting and integrating the professional expertise and opinions of other team members.
Behavior analysts take into account medical considerations first. If a client is displaying challenging behavior, a behavior analyst will likely suggest that a family see a Medical Doctor to rule out medical causes before starting a behavioral intervention.
Behavior analysts collect data on the work they do with the client. It is visually represented and used to discuss treatment planning with the client/family to inform decision-making. Behavior analysts don't make decisions based on feelings or hunches.
For more info, check out the current and newly released Ethical Code for Behavior Analysts
The IBAO Ethical Guidelines are similar
*Came into effect in January 2022, replacing the current Professional and Ethical Compliance Code for Behavior Analysts.
What to Expect When Hiring BCBA or IBA and Working Together
Below are seven of the many things you should expect as a client when working with a Board Certified Behavior Analyst or International Behavior Analyst. These stem from the Ethics Code for Behavior Analysts from the BACB and the IBAO Ethical Guidelines from the IBAO. These codes are in place to protect you, the consumer.
You should expect confidentiality when working with a BCBA/IBA. Ask your prospective BCBA/IBA about their policies around confidentiality. Both BCBAs and IBAs are required to protect both your digital and paper-based information. They are also required to keep information for 7 years. The client is entitled to access any and all raw data, reports and other information collected at any point.
Ethical and evidence-based treatments: consider asking a prospective clinician about some of their recent professional development activities. All BCBAs are required to complete at least 32 continuing education credits every 2 years. Four of these are to be ethics-related. CE providers are regulated by the BACB. Working with a certified behavior analyst means you can rest assured they have stayed current on some sort of professional growth and development. BCBAs are obligated to provide ethical and evidence-based treatments. IBAs are expected to engage in professional mentorship for their first 2 year cycle and complete the following CE credits in for their first and each subsequent 2-year cycle: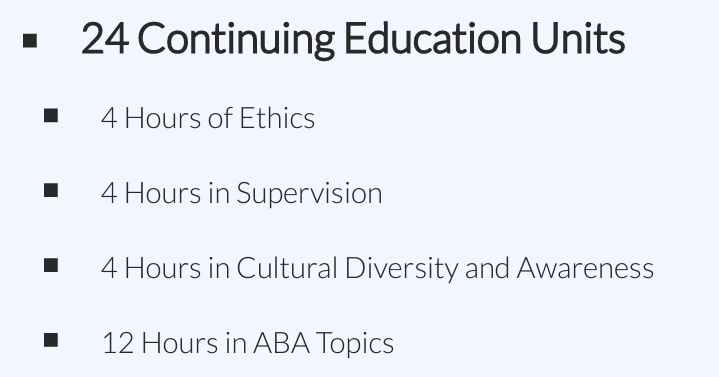 Clinicians working within their scope of competence: Before hiring a BCBA/IBA, don't be afraid to ask about their education and experience. If it doesn't seem to line up with what you and your family are looking for, consider another professional. While every BCBA/IBA has a basic scope of competence based on the Task List set out by the BACB, or the IBAO Required Educational Objectives, specialized areas require more training and supervision.
As a client (or parent of a client), you have the right to self-determination. When working with a behavior analyst, they should describe to you their recommended strategies and approaches, gain your collaboration, and ensure they get your informed consent before implementing services.
You can expect that the BCBA/IBA you have hired should follow through on professional obligations. They might have clear guidelines in their contract about communication and scheduling. If you have concerns about follow-through, communicate your concerns as they are ethically obligated to follow through on professional commitments.
Services should benefit the client and no harm be done. This is a consideration for caregivers when hiring any professional. Is their service making a measurable and observable difference? BCBAs/IBAs measure their interventions for this reason. If something is not working, we seek to change it or try a different approach. Harm can be as simple as wasting the client's money with ineffective interventions. Be a savvy consumer of behavior analytic services!
Clear communication skills are a must for a BCBA/IBA. Ensure that, when you're talking to your prospective clinician, you understand what they're saying to you and not using technical jargon without explaining it. BCBAs/IBAs are ethically bound to hone their communication skills to make their language accessible to everyone they work with
Understanding a BCBA/IBA Contract
When hiring a BCBA/IBA, there are some things to look for in a contract before you sign and begin your professional relationship:
Informed Consent: Have they indicated how and under what circumstances you will be notified of new assessments or changes to programs? Behavior analysts are obligated to obtain written, informed consent from the client when doing assessments, implementing behavior change programs, and making significant changes to a program. This should be made clear in the BCBA contract.
Cancellation Policy: Is there a policy on canceling appointments including a time frame and or associated fees? This will create clear communication on both sides.
Billable Activities: Ensure it is clear what activities are considered billable and what is included in the hourly rate. There will be work that needs to be done by the BCBA/IBA outside of direct service. Ensure these activities are clearly stated in the contract (e.g., admin like email and phone calls might be included but writing a behavior plan may be billable).
Terminating Services: Are there terms clearly stating the conditions under which and the process for either party terminating the working relationship?
Billing Rates: Ensure the hourly rate is clearly stated in the contract and what it includes (e.g., admin activities).
Confidentiality and Personal Information: Is there clear information about how the BCBA/IBA will protect your personal information? Where will they store your digital and paper-based information? What precautions will be taken to protect it? Are the servers of any online storage or telehealth platform in your country of residence? Does their platform comply with your local privacy laws?
Confidentiality and Collaboration: Is there clear information about who the BCBA/IBA will be in communication with such as family members or other professionals? Ensure there is clear information in the contract about gaining the written consent of the guardian prior to communicating about the client with others.
BCBA/IBA Jobs in 2022
There is a lot of demand in the US for BCBAs. This is due to insurance pumping a lot of money into the field to support early intervention for children with ASD, and ABA companies increasingly becoming backed by private equity.
Cruise any BCBA job board and you'll notice that sign-on bonuses and re-location stipends are common, and postings for BCBAs in the field of autism spectrum disorder are plenty. However, there are many behavior analysts looking for work outside of ASD and early intervention ABA programs.
Often, a behavior analyst will do supervised fieldwork and then gain their first entry-level job within an organization or school district where they can continue under the mentorship or peer-to-peer supervision of a clinical supervisor. Other behavior analysts, who prefer a flexible schedule, may seek peer-to-peer mentorship and strike out on their own as independent practitioners.
Behavior analysts are required by their ethics code to seek out appropriate education and supervision when looking to shift into new areas and expand their scope of practice. For example, if a BCBA/IBA has been working in school districts as a behavior specialist but wants to transition into OBM, they may seek out another BCBA/IBA who has expertise in OBM and gain supervision from them until they have built up new competencies in the area.
If you are posting an ad seeking a BCBA/IBA to work for you or with you, ensure the job title includes the term 'BCBA' or 'IBA,' depending on your location. Also, to ensure your job description stands out, include some information about any unique aspects of the role.
Depending on the job type, be prepared to offer additional reimbursement for relocation or changes in the cost of living.
To ensure you get high-quality candidates, include requirements like years of experience or types of experience in the job description. If you are seeking RBTs/IBTs for front-line work in a school district, for example, ensure you include your standards for having a high school diploma or bachelor's degree (if you so require that). Also, be clear if you expect them to already have their RBT/IBT training or if you are willing to pay for it and have them complete it on the job.
Finding and Hiring a BCBA/IBA
Now that you're equipped with the knowledge you need for hiring a BCBA/IBA, you're ready to begin your search.
If you're looking for individual behavior support services, you will likely be looking for a behavior analyst working as an independent practitioner that can take on part-time work for you.
If you are a larger organization, such as a school district, business, or nonprofit, you may hire a full-time behavior analyst to do OBM or other behavior consultation in-house.
Here are some places to go when hiring a BCBA/IBA:
Google some of the following search terms:

Behavior Analyst or BCBA (your town)
Behavior Analyst or BCBA telehealth

If you are a large company, school district or nonprofit looking for a BCBA, you can create a job summary on the ABAI job board, Indeed, ZipRecruiter etc.

Check LinkedIn for behavior analysts looking for work
Consider paying for an ad in a local/state/provincial ABA organization newsletter or social media
Check local Facebook groups for BCBAs and post there
Put a job posting on the ABAI job board
Reach out to a BCBA recruiter like HRI Colorado

If the young person for whom you are seeking services for is also experiencing mental health challenges, you could check the Association for Contextual Behavioral Science and lookup an Acceptance and Commitment therapist. This is a treatment form that is based on behavioral science and focuses on psychological flexibility. ACT has many peer-reviewed research studies behind it and can be a powerful approach when mental health and behavioral health interact.
There are a lot of behavior analysts working in a variety of fields outside of autism and developmental disabilities, with a strong social media presence. Here are a few below. Stay tuned for another blog post on some of these interesting areas.
If you are looking for someone to provide ABA therapy for a child with autism or other developmental disability, check with your insurance company about coverage for early intervention or other support services for children over 6. Some countries like Canada provide funding through the provincial government for ABA services.
Behavior analysts: If you're looking to work in a different field outside developmental and autism services, seek out supervision and training! There are so many interesting ways our science can be applied. Create a job alert to get ideas as to what job you might want to have in the future and fill in the experience and training gap.
The Bottom Line on Hiring a BCBA/IBA
Working with a BCBA/IBA can enrich your current team of support by bringing a fresh perspective and behaviorally-based techniques to the intervention/treatment plan.
BCBAs are certified by a central body—the BACB—and are trained to assess, treat and monitor behavior change. Outside of the US, behavior analysts are certified as International Behavior Analysts (IBAs) through the International Behavior Analysis Organization.
Many behavior analysts work outside of autism and developmental disabilities to apply the science of human behavior to a range of issues requiring behavior change.
Comment below with any questions you may have about working with a behavior analyst or what your experience has been like. Follow us on Instagram to catch new blog posts and podcast episodes.